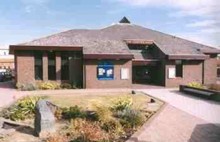 Chertsey Hall
Heriot Road, Chertsey, KT16 9DR

Situated close to the heart of Chertsey, the Chertsey Hall has been home to the Film Society ever since we started back in 1981. The hall is welcoming and well equipped, and is an important focus for many of the cultural, community & social activities which go on in Chertsey. The hall is currently being used exclusively as a vaccination centre, and is unavailable for community activities.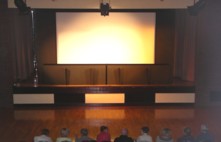 There are a number of rooms within the building to suit various different purposes, but the Film Society uses the main hall. This is spacious and has the benefit of a large projection screen and a good quality sound system, both of which are permanently installed. We can use the full width (5.3 metres) of the screen for films in 'Cinemascope' format, and can show an 'Academy' ratio (4:3) film at 3.8 x 2.85 metres.
The hall was originally equipped for 16mm film projection, and this was used by the society for more than 20 years, but since 2003 the majority of our films have been shown using digital video projection from DVD or Blu-Ray. In 2011 we acquired a new Full HD projector and long-throw lens and we now project (once again!) from the dedicated projection box high up at the back of the hall.
We show most films with a short intermission, during which time refreshments are available, a raffle draw is held and any announcements are made, plus a brief chat in which any particularly interesting aspects of the film may be highlighted.
The hall is conveniently located, being close to the town centre and a short walk from Chertsey railway station. There is ample car parking (free in the evenings) close by.
The car park serves Chertsey Library, the River Bourne Health Club and Chertsey Hall, and the entrance is in Heriot Road immediately opposite the hall. The majority of bus routes serving Chertsey also go via Heriot Road.
Chertsey itself is easily accessed by road from other neighbouring towns and from Junction 11 of the M25 if coming by motorway.
If you want to take a closer look at where Chertsey Hall is on a bigger map (opens in a new window) and how to get there, the easiest way is by using Google Maps directly.
More detailed information on Chertsey Hall and all its facilities is available via the Community Halls section of the Runnymede Borough Council website.