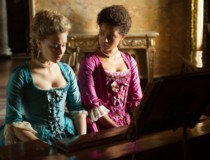 Friday 11 September
Belle
A moving period drama based on the true story of Dido Elizabeth Belle, the illegitimate mixed race daughter of Admiral Sir John Lindsay. Belle enjoys a privileged upbringing by her great uncle Lord Mansfield and his wife, but is denied the social standing and noble suitors enjoyed by her cousin Elizabeth. Meeting an idealistic young vicar's son gives Belle an opportunity as together they try to use Mansfield's position (Lord Chief Justice) as a means to end slavery. Outstanding performances from newcomer Gugu Mbatha-Raw as Belle and a strong supporting cast which includes Emily Watson & Miranda Richardson.
12A - 2014 - UK - 104 mins - Dir: Amma Assante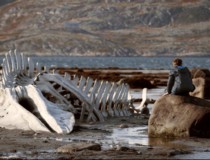 Friday 2 October
Leviathan
In a Russian town on the Barents Sea, mechanic Kolya has to fight for his home when the corrupt local mayor decides he wants it for himself. Calling on a lawyer friend to help fight his case seems like the obvious thing for Kolya to do - but does not succeed in improving the situation. Some of the darker aspects of human nature are explored as the strengths of personal loyalty, friendship and love are severely tested, and unpalatable truths about corruption and the conduct of law in modern Russia are starkly revealed in this powerful and gripping drama.
15 - 2014 - Russia - 140 mins - Dir: Andrey Zvyagintsev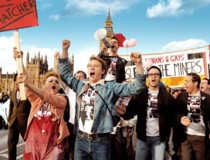 Friday 16 October
Pride
Comedy drama loosely based on the true story of London-based gay and lesbian activists coming to the aid of the mining community in a Welsh pit village during the 1984 strike. With their support not initially welcomed by the union, the group heads to South Wales to deliver the money they have raised directly to the miners. A lively and heart-warming story of two disparate groups coming together in a very entertaining film, which skilfully manages never to lose sight of the seriousness of the issues involved. The cast includes Bill Nighy & Imelda Staunton, but that hardly matters - they're all good!
15 - 2014 - UK - 119 mins - Dir: Matthew Warchus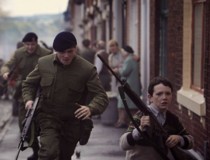 Friday 6 November
'71
A single perilous night in the life of a young British soldier newly posted to 1970s Northern Ireland. On his platoon's first mission, a riot develops and he becomes separated from the rest of the men, as he is beaten up and narrowly escapes being shot. Suddenly alone and disoriented, in an unfamiliar and hostile environment, he has to fend for himself on the dangerous back streets of Belfast. Not knowing who to trust, and with his plight becoming known both to an agent of the British 'MRF' undercover unit and to the IRA, he struggles desperately to get back to safety.
15 - 2014 - UK - 99 mins - Dir: Yann Demange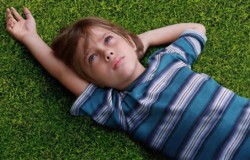 Friday 27 November
Boyhood
Filmed over 12 years using the same actors throughout,'Boyhood' follows the boy Mason (Ellar Coltrane) from childhood through adolescence to the verge of adult life. Mason's parents are already divorced by the time the film starts. He & sister Samantha live with their mom, Olivia, seeing less of their father, the quixotic and unreliable Mason Senior. As both parents move on with different partners, the shifting sands of family relationships loom large, but Harry Potter, Coldplay & Obama are also woven into this unique portrait of growing up in a particular time.
15 - 2014 - USA - 164 mins - Dir: Richard Linklater
Friday 11 December
Saving Mr Banks
The ruthlessly charming Walt Disney persuades glacially ladylike children's author PL Travers to sell him the film rights to her most famous creation, Mary Poppins. On one level the sparring between Disney (Tom Hanks with a Walt moustache), and Travers (a purse-lipped Emma Thompson) gives an entertaining perspective on the making of the classic movie, even if one sweetened with bowlfuls of sugar. But there is a deeper back story, told in flashback, about Travers' ramshackle Australian childhood and how the writer seeks posthumous redemption for her failed bank manager father through the character of British banker Mr Banks whose success defies convention.
U - 2013 - UK/Australia/USA - 125 mins - Dir: John Lee Hancock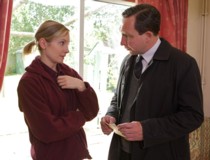 Friday 8 January
Still Life
Council worker John May has no close friends or family but his life is enriched by his devotion to doing a final kindness to his 'clients', people who have died alone, whose funerals he has to arrange, and whose next-of-kin it is his job to find if possible. When his role is threatened by the downsizing of his department, the ever-diligent John pursues what may be his last case with a special thoroughness that leads him in an unexpected direction. An unusual, poignant and wryly humorous tale with Eddie Marsan perfectly cast as the earnest central character.
12A - 2013 - UK/Italy - 92 mins - Dir: Uberto Pasolini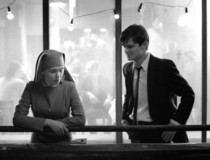 Friday 29 January
Ida
Set in Poland in the 1960s. Anna, an 18-year old orphan raised in a convent, is about to take her vows and become a nun. She is persuaded that she must first make contact with her sole living relative - her aunt Wanda, a worldly Communist party insider. She goes to see Wanda and learns some unsettling truths about her family background. Unable to continue on her chosen path in life, she instead sets off with her aunt on a heart-wrenching journey into the countryside and into their family's past.
12A - 2013 - Poland/Denmark/France/UK - 82 mins - Dir: Pawel Pawlikowski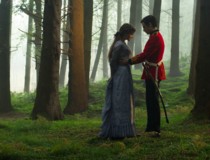 Friday 26 February
Far From the Madding Crowd
In 19th century rural Dorset the beautiful farmer and stealer of men's hearts Bathsheba Everdene, as created by Thomas Hardy, is an independent woman a century ahead of her time. As solid farmer Gabriel Oak, the dashing Sergeant Troy and the wealthy bachelor Boldwood all compete for her affections, this is classic storytelling played out in a lovely pastoral English setting. Inevitable comparisons to the 1967 version with Julie Christie will doubtless divide opinion for years to come, but it has been suggested that Carey Mulligan is the more convincing Bathseba.
12A - 2015 - UK/USA - 119 mins - Dir: Thomas Vinterberg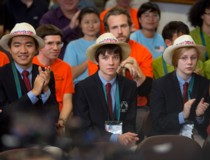 Friday 11 March
X+Y
British teen Nathan (Asa Butterfield) has Asperger's, but his talent for maths is encouraged by unconventional teacher Mr Humphreys (Rafe Spall) and he is selected for the International Mathematical Olympiad. As he travels from suburban England to a training camp in bustling Taipei and back again, it is dealing with emotions, not mastery of numbers, that he finds the most challenging. A strong supporting cast includes Sally Hawkins as Nathan's mother and Eddie Marsan as team leader Richard. This is a compassionate, thoughtful coming-of-age film made with a commendable subtlety and lightness of touch.
12A - 2014 - UK - 111 mins - Dir: Morgan Matthews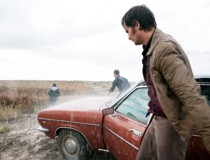 Friday 1 April
Marshland
In 1980s post-Franco Spain, two detectives are dispatched from Madrid to solve a series of brutal murders in a southern marshland town, and must overcome the mutual distrust which stems from their opposing ideologies. Almost everyone is a potential suspect as the two men toil around the area in either baking heat or torrential rain. The younger man is suspicious of the local police, whilst his older pro-Franco colleague tends to side with them, but gradually a shared purpose develops as they begin to close in on the murderer. Intricately plotted and very atmospheric, this is one of the best crime thrillers of recent years.
15 - 2014 - Spain - 105 mins - Dir: Alberto Rodriguez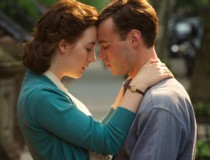 Friday 22 April
Brooklyn
Adapted from Colm Toibin's novel, 'Brooklyn' follows young Eilis Lacey from County Wexford to New York and back again. Eilis settles to a job she likes and has just found love in Brooklyn when events back home demand her return, forcing her to struggle with competing emotional pulls from both old and new countries. A polished & superbly acted romantic drama set in the 1950s, with standout performances from Saoirse Ronan as Eilis, Julie Walters as the stern but kindly landlady of her Brooklyn lodging house, and Jim Broadbent as the priest to Brooklyn's Irish community.
2015 - Ireland/UK/Canada - 105 mins - Dir: John Crowley